Triton industrial alarm solutions are designed to accommodate the extreme conditions of industrial and heavy industrial settings. Unique needs such as perimeter fence sensors in addition to traditional motion and access detection can be combined to fit your specific application.
Durable hybrid systems are also available, combining the cost-savings and reliability of wired components with the flexibility of wireless hardware.
Example Industrial Alarm System Hardware: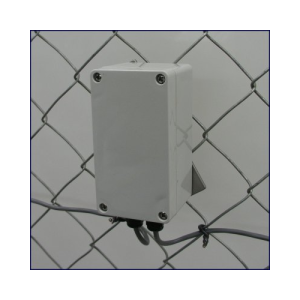 Flair Fence Vibration Sensor NEMA4X 9-15VDC
The Flair VIB100 sensor is designed to detect when an intruder cuts through or climbs over a chain link or wire mesh fence.  The on-board processor analyzes the vibration and tunes out false alarms caused by wind, vegetation, blowing debris or random single events.  The sensor mounts directly to the fence fabric and has 4 sensitivity settings to tailor the sensor to the fence characteristics.  From 20-40 foot coverage depending on the fence quality.
Three internal LEDs can be used for calibration in field and then turned off during normal operation.  9-15VDC powered, with open collector output.  1 year warranty.