Edmonton Industrial Surveillance Systems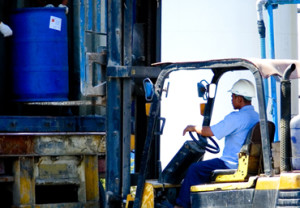 Triton Surveillance has completed a number of industrial Surveillance Systems installations including operating manufacturing facilities, auto wrecking yards, and storage facilities.  While these clients demand special capabilities, durable equipment, careful installation, Triton is able to assemble the unique equipment and staff needed to meet these needs.
An example of the technology available for extreme conditions include the Pelco Exsite Explosion Proof Camera.  Triton was called upon to install these specialty cameras in a heavy industrial hazardous environment where post-disaster data would be critical.
Available in both PTZ (IPSXM Series) and fixed (EHXM Series) models, the ExSite Series of explosion-proof camera systems are designed to meet the rigorous requirements for hazardous locations.
Features:
Electropolished 316L Stainless Steel Construction
Upright or Inverted Operation
Manual 200° Pan and 180° Tilt Adjustments (EHXM Series)
360° Continuous Pan Rotation with Tilt Range +90° to -90° from Horizontal (IPSXM Series)
2 Autofocus, High Resolution Integrated Optic Packages – 36XDay/Night, 128X Wide Dynamic Range, Motion Detection, and 540 TVL Horizontal Resolution
Multilingual On-Screen Menus
Password Protection
Configurable Camera Settings
On-Board Connector for: Pelco VC-UTP Video Connector; Pelco TXB Series Translator Board; Pelco Fiber and Third-Party Fiber Optic Transmitters
Common Requirements Include: • Pan-Tilt-Zoom (PTZ) Cameras • Impact resistant Housings • Motion-Detection Technology • Indoor and Outdoor High-Definition Cameras • WCB and Current Drug Testing for Installers
Contact us today to discuss your unique needs for Edmonton Industrial Surveillance Systems and to receive a free custom quote.